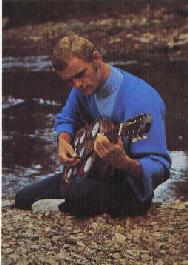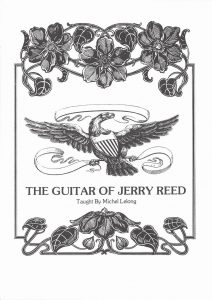 Informations
All the Michel Lelong's english guitar lessons on Merle Travis, Chet Atkins and Jerry Reed styles was published by Stefan Grossman's Guitar Worshop in the 80'/90′.
Notice: The tablature/music are in PDF and the audio files in mp3. You will receive the material by e-mail.
Order HERE the Guitar Method « The Guitar Of  Jerry Reed » Vol 1  by Michel Lelong.
Contents
32 page tab/music book.
Lesson One
Baby's Coming Home played in the key of C using the traditional alternating bass technique. Jerry Reed's best known composition Blue Finger follows. This combines a melodic walking bass line with the jazz/blues feeling that is a trademark of Jerry's sound.
Lesson Two
East Wind played in the key of Am illustrates how a melody can be played with a ragtime piano feel using triad chords. 500 Miles Away From Home is a good example of Jerry's rock/blues accompaniment technique. Stump Water revolves around the use of a roll technique that mimics the sound of a bluegrass banjo. Just Another Rag concludes this lesson combining the roll technique with an alternating bass.
Lesson Three
Down Home uses four fingers for picking out 3 and 4 melody lines played at the same time creating a blues piano feel! A rhythmic accompaniment for Tennessee Stud follows in dropped D tuning. Jerry's Breakdown completes the series.
Order HERE the Guitar Method « The Guitar Of  Jerry Reed » Vol 1  by Michel Lelong.
Jerry Reed Biography
Today Jerry Reed was a Hollywood movie star. But his roots are in country music and he made his name with his songs and guitar playing. He has a very unique guitar style that combines the folk tradition with jazz/blues elements of composition, chordings and right hand techniques. Chet Atkins has recorded many of Jerry's original instrumentals. This series of three lessons is for the advanced guitar player.